LaxLessons – The Leader.
Your unbiased, professional source for lax recruiting.
Our groundbreaking, imitated, but never duplicated Recruiting Rundown, launched in 2009, years before the copycat imitators.
Get caught up on the latest news right here, right now by visiting LaxLessons.com's groundbreaking, imitated, but never duplicated Lacrosse Insider. It's the No. 1 source for recruiting news, analysis and objective information in the NY/NJ/CT tristate hotspot and the entire lax galaxy, featuring nationally respected, award-winning multimedia news and sports director, manager, producer and editor Joe Lombardi, the author of the latest edition of "Lacrosse for Dummies." Access Insider here.
From staff reports and press releases
Looking for a home-run hiring after firing legendary coach Dom Starsia, the University of Virginia has done just that in landing Lars Tiffany, fresh off leading Brown to the NCAA Final Four, as its new head coach.
Virginia athletics director Craig Littlepage announced Tiffany's hiring Tuesday.
Tiffany, who coached Brown the last 10 years after serving as Stony Brook University coach two years,  played for Starsia at Brown.
So his hiring marks the second straight head-coaching hire for UVa of a Brown head coach. In another ironic twist, Starsia was Brown's head coach for exactly one decade (just like Tiffany) before taking the UVa job in 1993.
"I'm excited to welcome Lars Tiffany to Charlottesville and the University of Virginia to lead our men's lacrosse program," Littlepage said. "Lars is one of the country's more innovative coaches. His program is based on the development of young men as student-athletes and pushing them to excel in the classroom, in the community, and in competition. This foundation, combined with an aggressive and attacking style of play at both ends of the field, has proven to be successful over the course of his coaching career.
"His vision for our program to annually compete for championships and achieve high academic performance is in alignment with our goals of Uncompromised Excellence."
"Stepping into the seat as the head coach of the Virginia's Men's Lacrosse program brings both a tremendous exhilaration and responsibility," Tiffany said. "I am very fortunate to have Craig Littlepage entrust me with this program.  It is also clearly understood that the coaches and athletes of Virginia Lacrosse that have come before me have established a very high bar for measuring success in Charlottesville.  My staff and I are eager to begin working with the men as we establish the principles and guidelines of our aggressive, fast-paced system of play that relies upon uncompromising fitness, competitive fire and a passion, and joy, for the game of lacrosse."
Tiffany, a 1990 Brown graduate, has been a head coach for 12 seasons. He guided Brown to a school-record 16 wins this past season.
"Lars has been a great leader for our lacrosse program and we wish him well at Virginia," said Brown Director of Athletics Jack Hayes. "He has been a mentor to our student-athletes, a successful coach and a loyal alumni."
A two-time Brown team captain, Tiffany returned to his alma mater as head men's lacrosse coach in the summer of 2006, and has returned the program to national prominence with Ivy League titles in 2008, 2010, 2015 and 2016 while earning NCAA Championship berths in 2009, 2015 and 2016, including a national semifinal appearance in 2016. He posted a career record of 113-69 in 12 years as a head coach, including a 10-year record of 95-56 at Brown.
Tiffany guided his 2015 team to the No. 1 seed in the Ivy League Tournament, an Ivy League championship and NCAA Tournament berth, changing the landscape of college lacrosse with a unique fast break offense that scored 237 goals, averaging 13.94 goals per game, fifth best in the nation.
Since taking over the Brown program in 2007, Tiffany transformed the program from one that was winless in the Ivy League in 2006 into one of the preeminent teams in the Ivy League and the nation.
Tiffany guided Brown to its second Ivy League Championship under his watch in 2010, while also earning a berth in the first-ever Ivy League Playoffs. His team also posted back-to-back winning seasons in 2013 and 2014.
In 2009, Tiffany coached Brown to its first NCAA Tournament appearance since 1997, before falling in overtime to Johns Hopkins in the NCAA First Round. His 2009 team posted a 12-4 record and was ranked as high as eighth nationally during the season, finishing the season as the 11th ranked squad in the nation.
Tiffany's 2008 squad captured the Ivy League title with a 5-1 league mark, posting an 11-3 record to earn the most wins at Brown since 1994.  Brown, the number one ranked team in New England, finished 13th nationally in the final USILA coaches poll, with just six teams in the nation winning more games than the Bears.
In his first season at the helm of the Brown team, Tiffany turned the fortunes of the program in the right direction, guiding the Bears to a 7-7 record in 2007, and a national ranking as high as 18th.
Tiffany came to Brown from Stony Brook, where he was the head lacrosse coach in 2005 and 2006, posting an 18-13 overall mark. His 2006 squad finished second in America East with a 4-1 league mark and was ranked in the Top 20 in two weeks. In 2005, Tiffany's Seawolves appeared in the Top 20 for the first time ever, and were ranked as high as 14th nationally. Tiffany, the 2005 America East Coach of the Year, led Stony Brook to wins over Penn State and Rutgers, as his Seawolves boasted the number-one ranked man-up unit in Division I.
Tiffany arrived at Stony Brook after successful stints at Penn State, Dartmouth, Washington & Lee and LeMoyne. He spent his four years at Penn State (2000-2004) as the top assistant under head coach Glenn Thiel, and was involved in all facets of the lacrosse program as the team's defensive coordinator and recruiting coordinator. Tiffany's defensive units were outstanding during his four years, and in 2002, the Nittany Lions led the nation in man-down defense.
Prior to coaching at Penn State, Tiffany was an assistant coach at Dartmouth College, where he spent the 1999 and 2000 seasons under head coach Rick Sowell. In his two seasons as defensive coordinator, the Big Green's goals allowed per game in Ivy League contests dropped from 15.3 to 9.0. Dartmouth earned its first share of the Ivy League title and a berth in the NCAA tournament in 2003.
Tiffany was an assistant coach from 1997-98 at Washington & Lee University. In 1998, the Generals went 13-3 and advanced to the quarterfinals of the NCAA Tournament while finishing fifth in the USILA Division III national rankings.
Tiffany began his collegiate coaching career at LeMoyne College, where he served as an assistant coach of men's lacrosse and co-head coach of the women's lacrosse program from 1994-96. A native of LaFayette, N.Y., Tiffany graduated from LaFayette High School where he lettered in football, basketball and lacrosse. Upon graduation from Brown, he taught biology and coached lacrosse and football at the Robert Louis Stevenson School in Pebble Beach, Calif., from 1990-94.
Tiffany was a starter on defense for three years at Brown. A Biology concentrator, Tiffany played on two Brown teams that advanced to the NCAA Tournament (1987 & 1990). He was Co-MVP of the Brown squad that captured its first-ever NCAA playoff victory in 1990 (12-9 vs. UMass). Tiffany capped his career by playing in the North-South Senior All-Star game.
Have a recruiting commitment to report? Send an email to info@laxlessons.com, contact Joe Lombardi directly at joe@laxlessons.com or send a Tweet to @Joe_Lombardi or @LaxLessons.
LaxLessons' Fall 2015 Signing Week coverage
LL/RR LaxLessons Recruiting Rundown: The Leader –  The Original, The Best 
Our groundbreaking, imitated and never duplicated Recruiting Rundown launched in 2009, years before the copycat imitators.
Tristate Division I Class of 2015 commitments by college
Tristate Division I Class of 2016 commitments by college
Tristate Division I Class of 2017 commitments by college
Tristate Division I Class of 2018 commitments by college
Tristate Division I Class of 2019 commitments by college
Tristate Division I Class of 2020 commitments by college
LL/RR Recruiting Rundown commitment lists
* Updated tristate recruiting commitment rundown for Class of 2015
* Updated tristate recruiting commitment rundown for Class of 2016
* Updated tristate recruiting commitment rundown for Class of 2017
* Updated tristate recruiting commitment rundown for Class of 2018
* Updated tristate recruiting commitment rundown for Class of 2019
* Updated tristate recruiting commitment rundown for Class of 2020
* Recruiting commitment story archive
* 2015 National Letter Of Intent Fall Signing Week story/photo archive
* 2014 National Letter of Intent Fall Signing Week story/photo archive
* 2012 National Letter of Intent Fall Signing Week story/photo archive
Tristate Top 100
First 10 defenders/longstick midfielders
Once again, our Tristate Top 100 is an exclusive feature on our Lacrosse Insider premium coverage section. If you are not already, become an Insider by clicking here.
Get in the Zone: The HS Zone
High School Zone: Hudson Valley
High School Zone: New York City
High School Zone: Upstate New York
High School Zone: Pennsylvania
High School Zone: Beyond the Northeast
* Follow LaxLessons on Twitter by clicking here.
* Become a Fan of LaxLessons on Facebook now by clicking here.
Subscribe to our free newsletter
Be sure to sign up for our free online newsletter. Just enter your email address on the "Receive Our Newsletter" link on the homepage of LaxLessons.com
PLAYS/DRILLS: Apps for iPhone/iPad
* Download for free the new LaxLessons' playbook Android app in Google play.
* Download for free the new LaxLessons' playbook iPad/iPhone app in the iTunes store.
* You can subscribe to LaxLessons.com's playbook, featuring animated drills and plays for your team, by clicking here.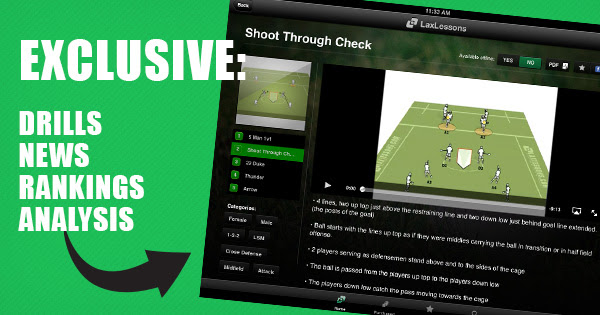 Posted In: College lacrosse
If you liked this article, please take this time to share it with your Facebook friends using the Facebook button (see Facebook post button to the left) or retweet it using Twitter (see retweet button to the left). You may also want to
follow us
or
subscribe to the site
to stay up-to-date with this article. If you'd rather follow us from your Facebook account, join our
Facebook fan page
.