LaxLessons – The Original. The Best. The Leader.
Your unbiased, professional source for lax recruiting.
Our groundbreaking, imitated, but never duplicated Recruiting Rundown, launched in 2009.
Get caught up on the latest news right here, right now by visiting LaxLessons.com's groundbreaking, imitated, but never duplicated Lacrosse Insider. It's the No. 1 source for recruiting news, analysis and objective information in the NY/NJ/CT tristate hotspot and the entire lax galaxy, featuring nationally respected, award-winning multimedia news and sports director, manager, producer and editor Joe Lombardi, the author of the latest edition of "Lacrosse for Dummies." Access Insider here.
From press release
PRINCETON, N.J. — The Ivy League announced Wednesday that it has proposed NCAA legislation to allow prospective student-athletes more time in the recruiting process to make the important decision of where to attend college.
"The pressure on prospective student-athletes to commit to a specific college earlier and earlier is a national issue," said Executive Director Robin Harris. "It causes stress for prospects and their families, as they are often asked to make a life-altering decision as high school freshmen or sophomores, and sometimes even before they have started high school.
"Our goals are to elevate the national conversation about the negative effects of early recruiting, and to challenge the NCAA membership to change the culture of recruiting that forces prospective student-athletes to verbally commit before they are academically, athletically, or emotionally ready to make their college choice."
Early recruiting of prospects occurs despite existing NCAA rules that prohibit coaches from initiating contact until the junior year of high school. Through various workarounds, including non-scholastic coaches and social media, access to prospective student-athletes has accelerated the recruiting timeline.
This past May, the Ivy League Directors of Athletics charged the League office with reviewing early recruiting practices and proposing NCAA legislation to address the problems.
The Ivy League proposals focus on multiple aspects of the recruiting process, such as the timeline for verbal commitments, contact during camps, and expanding limits on telephone calls and unofficial visits.
Specifically, coaches would not be allowed to make verbal offers of financial aid or support in the admission process prior to the start of the prospective student-athlete's junior year. Additionally, other means of communication, such as initiating or receiving telephone calls, planning unofficial visits and having recruiting conversations at camps and clinics would be prohibited prior to the start of the junior year.
The Ivy League is not alone in trying to remedy early recruiting. Several national coaches groups have identified early recruiting as a significant problem. Other proposals addressing the recruiting timeline have been introduced into the NCAA legislative cycle, including proposals specific to field hockey, women's gymnastics, and men's and women's lacrosse.
Have a recruiting commitment to report? Send an email to info@laxlessons.com, contact Joe Lombardi directly at joe@laxlessons.com or send a Tweet to @Joe_Lombardi or @LaxLessons.
LaxLessons' Fall 2015 Signing Week coverage
Recruiting Rundown section: Commitments sort by high school, prep school
* 2015 National Letter Of Intent Fall Signing Week story/photo archive
* 2014 National Letter of Intent Fall Signing Week story/photo archive
* 2012 National Letter of Intent Fall Signing Week story/photo archive
Tristate Top 100
First 10 defenders/longstick midfielders
Once again, our Tristate Top 100 is an exclusive feature on our Lacrosse Insider premium coverage section. If you are not already, become an Insider by clicking here.
Get in the Zone: The HS Zone
High School Zone: Hudson Valley
High School Zone: New York City
High School Zone: Upstate New York
High School Zone: Pennsylvania
High School Zone: Beyond the Northeast
Connect with us
* Follow LaxLessons on Twitter by clicking here.
* Become a Fan of LaxLessons on Facebook now by clicking here.
Subscribe to our free newsletter
Be sure to sign up for our free online newsletter. Just enter your email address on the "Receive Our Newsletter" link on the homepage of LaxLessons.com
PLAYS/DRILLS: Apps for iPhone/iPad

* Download for free the new LaxLessons' playbook Android app in Google play.
* Download for free the new LaxLessons' playbook iPad/iPhone app in the iTunes store.
* You can subscribe to LaxLessons.com's playbook, featuring animated drills and plays for your team, by clicking here.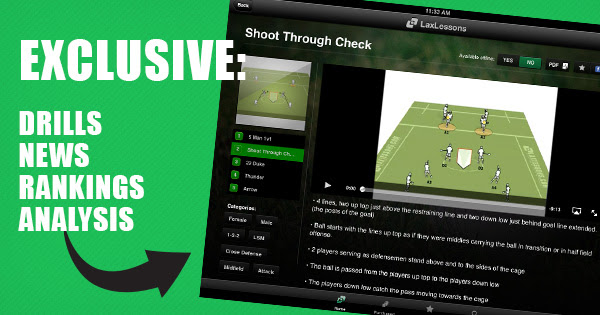 Posted In: College lacrosse, Recruiting Rundown
If you liked this article, please take this time to share it with your Facebook friends using the Facebook button (see Facebook post button to the left) or retweet it using Twitter (see retweet button to the left). You may also want to
follow us
or
subscribe to the site
to stay up-to-date with this article. If you'd rather follow us from your Facebook account, join our
Facebook fan page
.